Discover more from Thursday!
A short fiction and poetry e-zine some weeks. Clever thoughts about story, poetry, and being a decent creative human being in other weeks. Delivered every Wednesday (really!) since 2020.
V3, I46
I am pleased to announce1 that I have not done very much of anything you might call artistic this week. This Instagram post, from last week's trip to the laundromat is about as artsy as I got.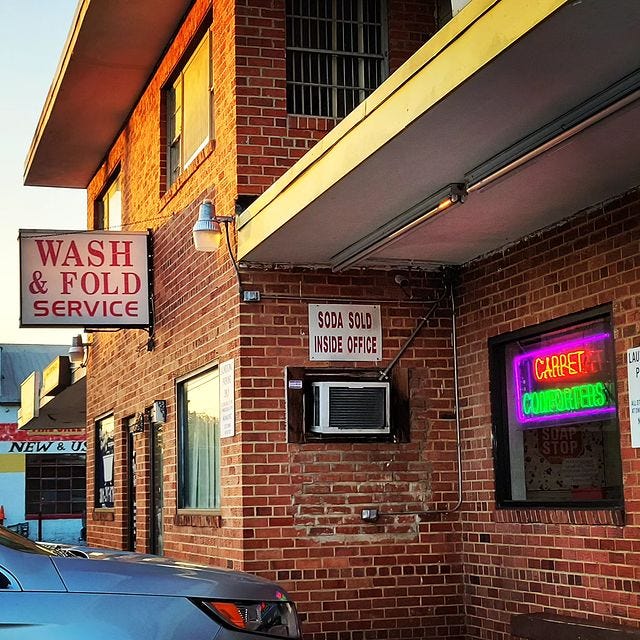 Not all that long ago, I'd have been down on myself for not writing anything worth of sharing with you. If you've been around me, even at the distance of this newsletter, you know the truth of it. I am my own worst critic2 and I'll take any chance to punch myself repeatedly in the face for even the slightest misstep.
Not lately, though. Lately, all the stuff I've been telling you about giving yourself slack and grace, staying aware of the art in the world around you, and writing for a reason more sharply defined than "just because" has sunken in to my head. See, I've always been awfully good at not taking my own advice. I really don't have a lot of time for that these days. The seasons are flying past and, as you've seen, I have a lot of creative things I very much want to share with all of you. None of those cool things are going to see the light until I step up and act like the pretty darned good and wickedly clever creative dude some of you have assured me I am3.
I know. Big talk, right? Lots of people, including me, talk big about the stuff they want to do, but never seem to get around to the doing. I've been doing some things behind the scenes that ought to lead to real action and cool stories/poems/who knows what else. Im grateful for your patience and for the love you show the work I do. In the meantime, I'd like to know what you're up to. If you're a bit stalled, don't sweat it too much, okay? You'll get loose to do the work you want to do. Keep chipping away at the resistance. Keep cutting yourself a little more slack every day. Keep making the art only you can make, even if it's only a little bit of it that might lead to something great a little farther down the road.
Oh, and give a listen to this week's recordings. They're short and a little bit different. I hope you like!
---
My dream is to support my family with my art. Can such a thing be done? Yes! But I need your help. How? I'm glad you asked!
Upgrade to a paid membership to Thursday! or consider a Founding Membership! You can choose any amount above $65 a year, not just the suggested $240.
---
Peek-A-Boo Moon
A Storm Broke Over My House Today
1
I am, in fact, not pleased at all to announce that, but it's a good place to start Thursday! this week, so here we go.
2
Are you shocked? You're shocked. I can tell.
3
Have I thanked you for that? I do hope I have, but in case I haven't done it lately, THANK YOU!